The critics got this one wrong. It's not "food porn." It's not really even about sushi. It's about a man's lifelong devotion to the perfection of his craft. Jiro Ono operates a 10-seat sushi bar in Tokyo that has earned a coveted 3 Michelin stars. He apparently has a wife and a home, but we don't see either. He has two sons, both of whom are also sushi makers. Neither will be held in the same esteem as Jiro -- least of all by Jiro himself. The family story is drawn out with careful restraint. We never see Jiro or his sons anywhere except at work.
Jiro's quest is "deliciousness." His materials are rice and raw fish. He knows why lean tuna should be served before fatty tuna. He notices the dexterity of his customers and places his creations accordingly. He is the undisputed world master of his craft. Jiro has devoted his entire life to the pursuit of perfect sushi. But perfection is unattainable. Jiro knows that. We know that. How are we to understand the devotion of an entire existence to one passionate pursuit that cannot end in the attainment of a desire? David Gelb's documentary doesn't offer judgments. Nor does it manufacuter drama. Instead it arranges its simple, elegant, and economical ingredients for its viewers and let's us do the rest.
I couldn't help but be reminded of Wim Wenders' documentary on the Japanese clothing designer Yoji Yamamoto and his similar quest for perfection using different materials (Notebook on Cities and Clothes, 1989). But whereas Wenders' documentary uses clothing design as a means to talk about filmmaking, Gelb eschews the cinematic flourishes, playful turns, and ideological manipulation that characterize most documentaries these days.
Jiro Dreams of Sushi just became available on Netflix yesterday and is definitely worth watching. Even if you dream of something other than sushi.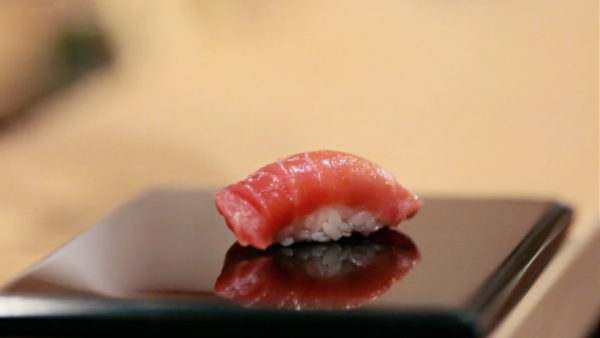 All I want to do is make better sushi. I do the same thing over and over, improving bit by bit. There is always a yearning to achieve more. I'll continue to climb, trying to reach the top, but no one knows where the top is. Even at my age, after decades of work, I don't think I have achieved perfection. But I feel ecstatic every day. I love making sushi. That's the spirit of the shokunin.

Jiro Ono